I'm shaking up this Photo Wednesday a little bit to talk about the iconic urban boutique Harriet's Alter Ego.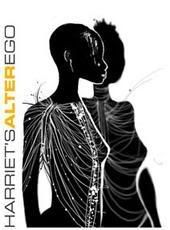 Harriet's was a landmark for ten years and through two locations first on Flatbush near Fifth avenue (at the toe of the footprint that is intended to be Ratner's folly aka Atlantic Yards) and later when that location was closed for demolition, causing Harriet's to move further up Flatbush Av to it's second home between Prospect and St. Marks. It has been more than a launching point for cultural creatives of color, it has in a long and short time nestled into folk-landmark status in Brooklyn's recent geographical and psychic landscape. After all that and more, Harriet's Alter Ego was closed Saturday with a joyous celebration (to paraphrase) of life, death and the spirits of our ancestors.
And dayum it was so good fun.
Old friends, new friends, small children, veggie buffet, flying fashions. All good indeed.
I'm not going to go on about the vibe at the closing party, or the rhythmic press of throbbing bodies. I won't try to encapsulate the shop co-owned by Hekima Hapa and Ngozi Odita that gave lift to the wings of so many talents. I won't do any of that any further because I feel the most striking sensation of the night was of energy let loose and run rampant resulting in the following moment. At one point I moved quickly from the dance floor because I realized that between the people, the movement and the resulting generated heat, I couldn't breathe.
I went outside, out to the freeze post midnight sidewalk and swallowed long gulps of cold air. Looking around I was surprised to see how many others were doing the same. And then I saw what for me was the quintessential defining image of the moment. It was the door of Harriet's cocked open with a heavy flow of steam billowing out. Not from a stove or furnace but from the power, the pure heat of the energized 500 plus who through Harriet's, let their spirits soar. The energy couldn't be contained, of course it went free.
Based on what Ngozi was saying you should keep and eye and an ear out for when that energy resettles, because it will.

Harriet's Alter Ego Blog

Harriet's Alter Ego Website
And if you want a taste of what has been check this courtesy of the youtube